Pretzel challah is good but sourdough pretzel challah is better- after all sourdough pretzels are better. While you can use the directions for the pretzel challah with my classic challah recipe, I highly recommend sourdough. More detailed instructions can be found at my sourdough recipe. Most of this recipe follows the same instructions.
I made a few different "specialty" pretzel challahs. One was peanut butter stuffed using peanut butter chips (peanut butter itself does not do well in challah) inspired by peanut butter stuffed pretzels. I also did some with both peanut butter chips and chocolate chips. Finally for the crown jewel I made one with cinnamon sugar inspired by the famous Aunt Annie's pretzels. All of the challahs came out amazing but that one was out of this world.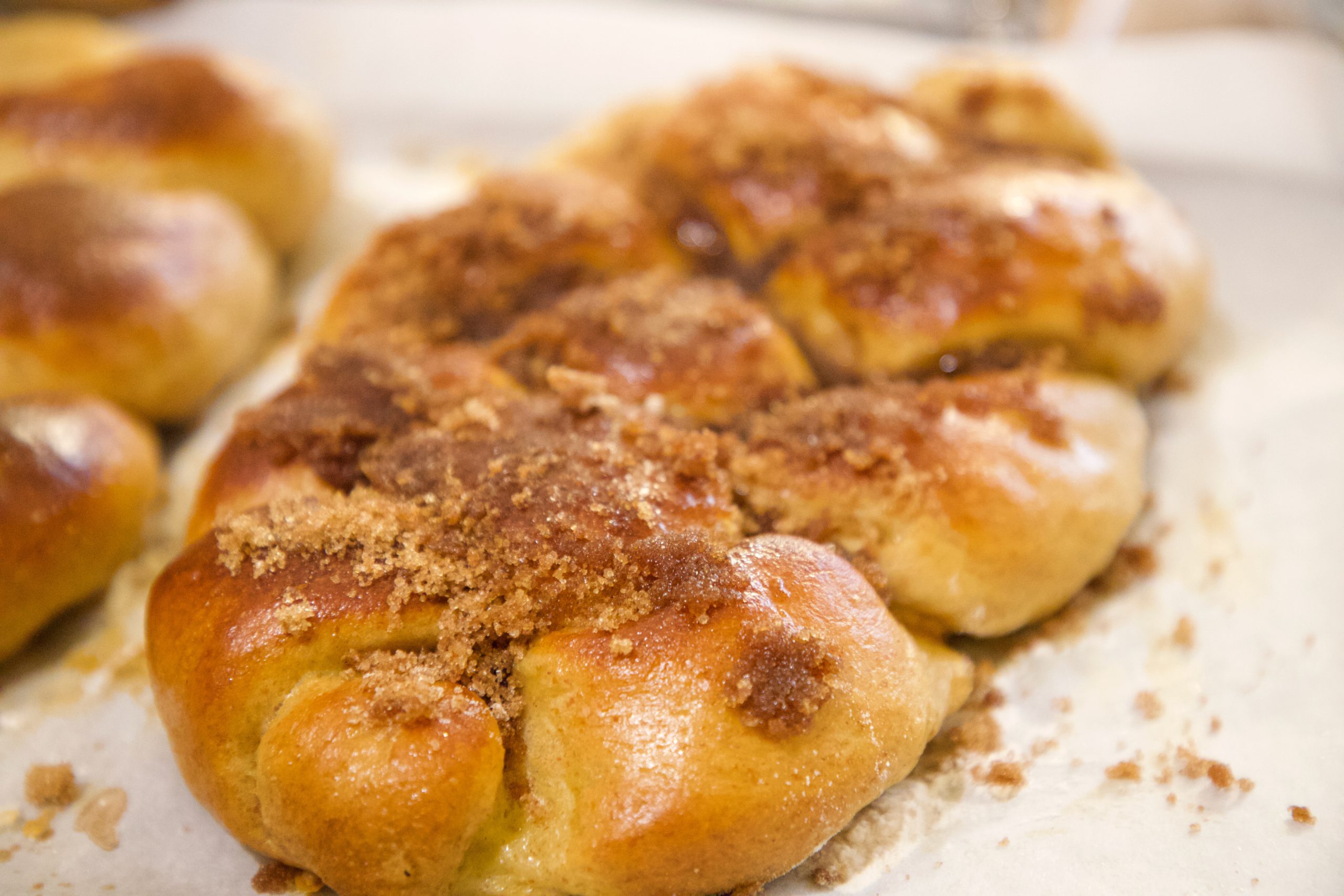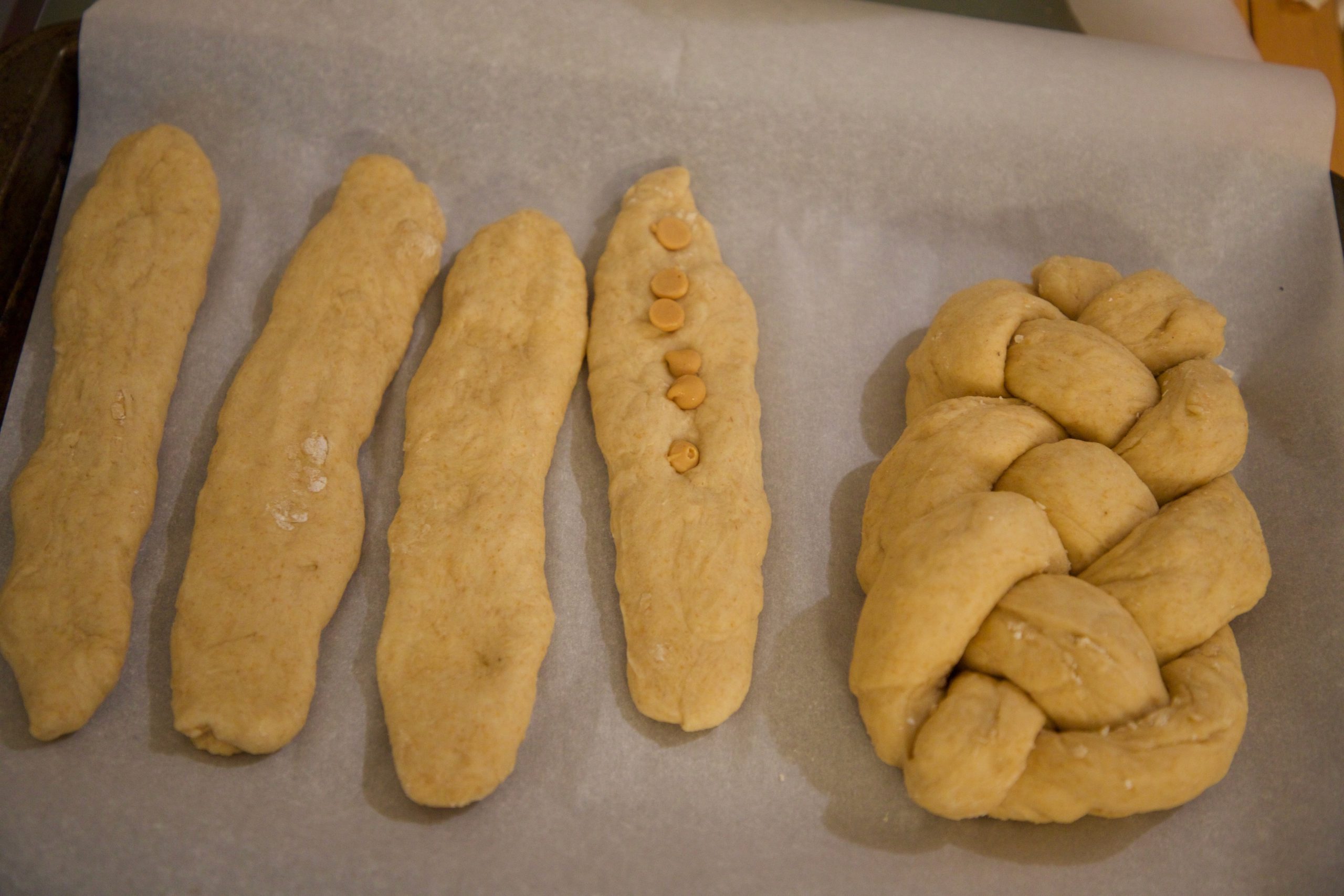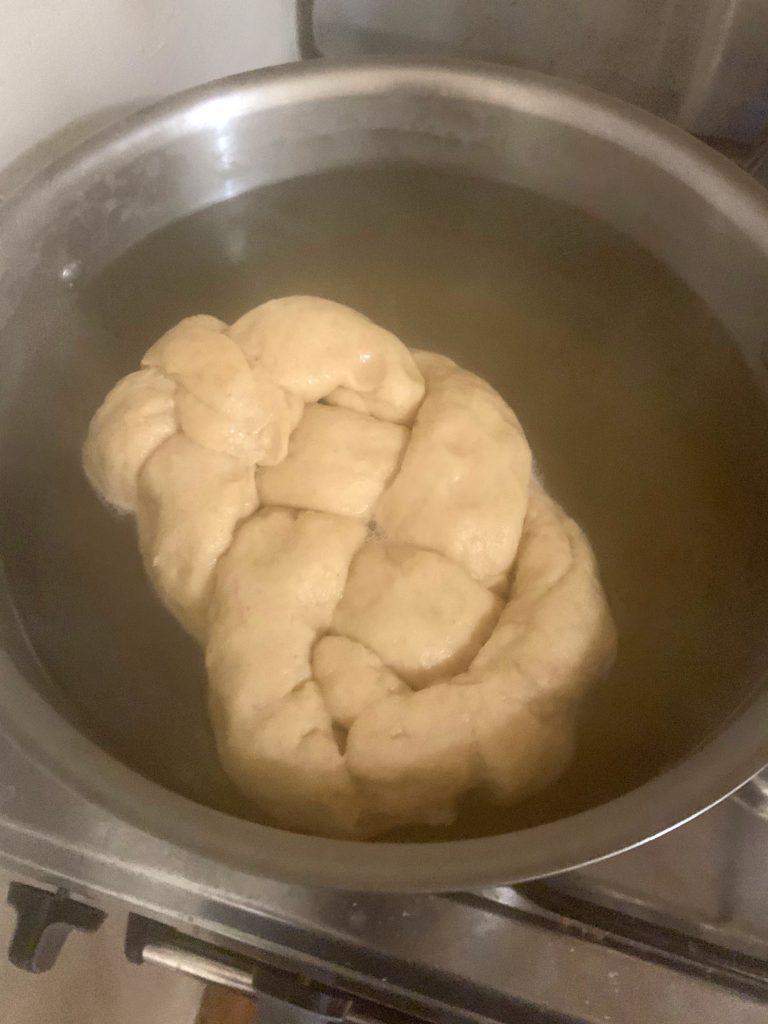 SOURDOUGH PRETZEL CHALLAH
Sourdough pretzels are just better than regular pretzels. Sourdough pretzel challah is the same way. When filled with peanut butter/chocolate or topped with cinnamin brown sugar, this might be one of your favorite challot.
Ingredients
1

cup

active sourdough discard

¾

tablespoon

instant yeast

½

cup plus 1 tablespoon

brown sugar (alternatively honey or agave)

1¾

cups

lukewarm water

½

cup

light olive oil

5

large eggs, plus one additional for egg wash

1

tablespoon

salt

8-9

cups

bread flour (see tips in my classic challah recipe linked above for explanation and subsitutions)

Optional: chocolate chips or peanut butter chips for stuffing
For Boiling
½

cup

baking soda

2

tablespoons

brown sugar
For Cinnamon Sugar Coated
2

tablespoons

cinnamon

½

cup

brown sugar

¼

cup

butter or butter alternative (such as earth balance)
Instructions
Whisk sourdough starter, instant yeast, and one tablespoon brown sugar in lukewarm water until dissolved. This can be done easily by hand, however, it is easiest if you use the bowl of a stand mixer as the mixer is very helpful for later steps.

Add oil, continuing to whisk.

Add 5 eggs, salt, and remaining 1/2 cup sugar, alternating between eggs and continuing to whisk.

Using the dough hook on your kitchen aid, or a wooden spoon if you do not have a stand mixer, gradually add flour. Keep the mixer on low speed and add one cup at a time to reduce mess. If you are using vital gluten, add it at this time as well. Add enough flour so the dough is no longer sticky and does not easily take more flour (see photos and tips in the classic challah recipe linked above).

Continue kneading for several minutes until smooth either with the dough hook or by hand.

Remove the dough ball from the bowl, grease the bowl, and return the dough. Cover with plastic wrap and let rise until doubled in size. The time this takes depends on the temperature and humidity in your room. It should, however, be at least an hour and a half or two.

Once the challah has doubled in size punch down and allow to rise for another forty-five minutes.

Divide challah dough and braid challah to the desired shape. Four and six-strand loaves are both pretty. If you are using stuffings such as chocolate chips or peanut butter chips flatten the strands after forming them, add the chocolate chips, and pinch the sides up (see photo above).

Allow challah to rise for another hour on a baking sheet lined with parchement paper

Bring a pot of water to a rolling boil. Once it is at a rolling boil add baking soda and brown sugar.

Gently place challot one at a time in the boiling water. Boil on each side for 1 minute. Flip. While the challah is in the water flour the spot where it will return on the baking sheet.

Using a slotted spoon or spatula, remove the challah from the boiling water.

Crack and scramble the final egg in a bowl and brush it on your loaves. If you are topping with salt sprinkle the kosher salt on now.

Bake in the oven for 20-35 minutes, depending on the loaf size and your desired doneness. At that point you can poke the challah to make sure it is baked inside.

Turn the oven to broil and allow the tops to brown for an additional 2-5 minutes. Monitor to make sure the tops do not burn. The tops should be golden like a pretzel when you take them out.
Cinnamon Sugar Challah
Melt your butter or butter alternative.

Mix cinnamon and brown sugar.

Brush the butter onto the challah. Alternatively with smaller challot, dip them in the butter.

Sprinkle the cinnamon and brown sugar mixture onto the challah. Alternatively, with smaller challot, dip them in the mixture.
Notes
We have dairy shabboses so I made the cinnamon sugar challah with butter. It could likely be done with a dairy alternative such as earth balance or even coconut oil, however.