I have been doing apple everything this Rosh Hashanah: apple caramel challah, apple babka, apple butter, apple sauce, apples in my lokshen kugel. I had a bag of dried apple chunks and thought, what about apple mandelbrot? I whipped them up into mandelbrot and dipped it in melted butterscotch chips (rather than chocolate chips). I wanted to put caramel chips into the mandelbrot but I couldn't find them. Even so, these came out delicious.
I'm posting this late for Rosh Hashanah: Thursday evening with the holiday starting tomorrow. However, they really didn't take long at all. I prepared them in ten minutes before running to a class, turning my camera off for a moment partway through to take them out and cut up the pieces. One thing I like about mandelbrot is they spend A LOT more time baking than active time.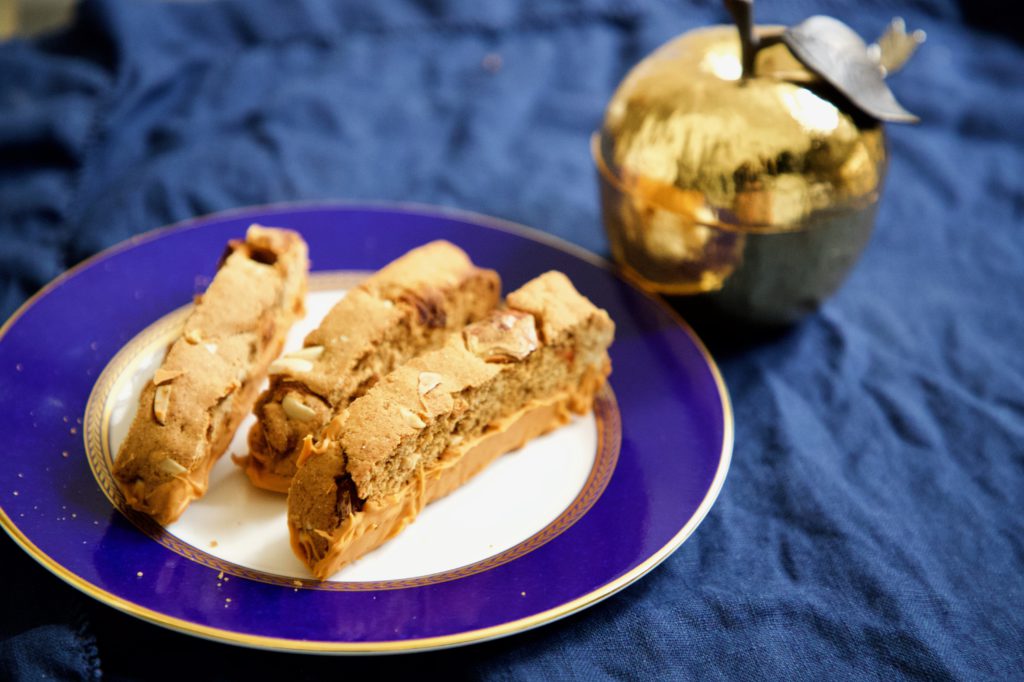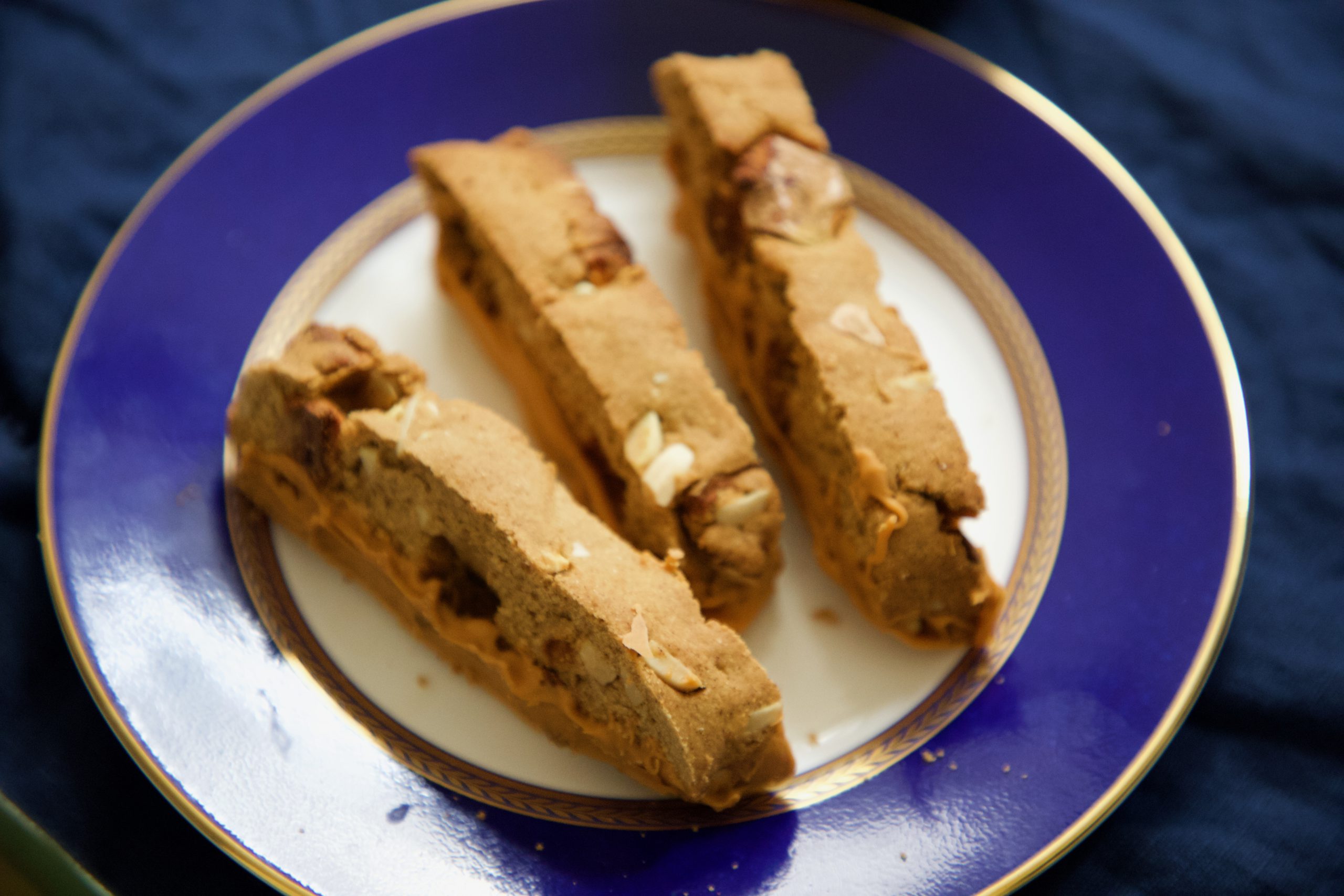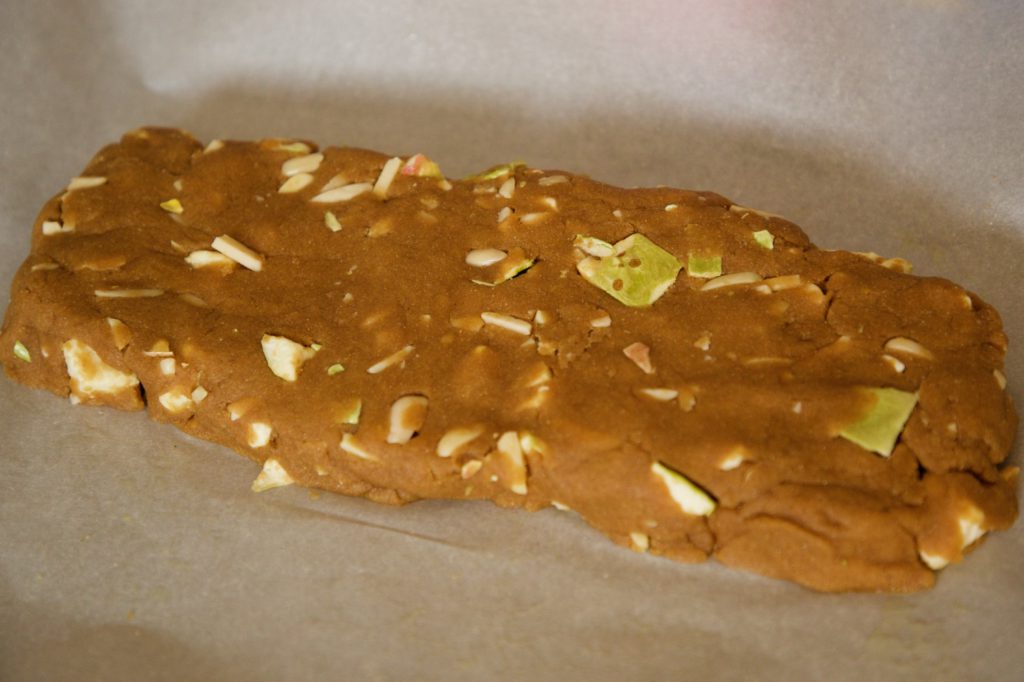 APPLE BUTTERSCOTCH MANDELBROT
A Rosh Hashanah twist on mandelbrot with dried apples, dipped in butterscotch.
Ingredients
3

eggs

3½

cups

flour

2

teaspoons

baking powder

½

teaspoon

baking soda

½

teaspoon

salt

Zest of one lemon

½

cup

vegetable oil

½

cup

brown sugar

1

tablespoon

vanilla extract

1

tablespoon

almond extract

1

cup

slivered almonds

¾

cup

dried apple pieces

smaller pieces are better

1

cup

butterscotch chips
Instructions
Preheat oven to 350°. Prepare two cookie sheets with baking paper and spray with oil.

Beat eggs on high in a mixer until foamy, about 3 minutes.

In a separate bowl combine the flour, baking powder, baking soda, lemon zest, and salt.

Add the sugar, oil, vanilla extract, and almond extract to the mixer. Beat on medium until blended.

Add the flour mixture to the liquid mixture and mix on low until just incorporated.

Add the almonds and dried apple pieces. Mix on low until just incorporated.

Form the dough into two logs and place on the two baking sheets.

Cook 35-40 minutes until loaves are firm but remain slightly soft when pressed.

Remove from oven and let cool for 15 minutes.

Slice the loaf into ¾-1 inch pieces. Place back on the baking sheet on their side.

Return to oven. Bake until the pieces are fully dry and slightly golden on both sides, about 20 minutes on each side.

Remove from oven to a cooling rack and allow to cool.

Once the cookies are cooled, melt butterscotch chips in a medium-sized bowl.

Dip cookies in the butterscotch sauce one at a time.

Allow butterscotch to harden in the fridge or freezer before serving.