I truly believe I have the best challah recipe. Have I had other excellent challahs? Yes, but I will never make a different recipe (my sourdough challah recipe aside, but that is a topic for another post). This recipe is the right amount doughy, the right amount sweet, and, when you broil it for the last moments, the right amount crispy on the outside.
This recipe makes four good sized loaves. I tend, however, to make four slightly smaller and then a number of rolls so I can serve a loaf and a roll per meal. Even six loaves can be made, especially if you do a four stranded braid instead of a six.
Before I start the recipe I am going to share some tips for better challah:
Use bread flour (King Arthur is the best). If you do not have bread flour or you would like to use whole wheat flour, add vital gluten. Since I like to make my bread part whole wheat I usually mix bread flour with whole wheat and vital gluten. A good rule of thumb is half a tablespoon of vital gluten per cup of whole wheat flour. So if I use two cups of whole wheat I use one tablespoon vital gluten. In this recipe I used 2 cups whole wheat.
The challah freezes well. I know some people freeze it before the final rise and then rise and bake after thawing. I personally find it works better to cook it and then freeze well wrapped.
Do not overcook it, especially if you plan to reheat it to serve (which I recommend). Personally I would rather a bit doughy than flakey. The baking time depends on your oven and the size of your loaves so monitor the challah the first few times you make it to determine the right baking time for your challah.
The three rises are highly recommended. If you are short on time you can probably skip the second, but it makes for nicer dough.
Do not worry if there is extra flour that doesn't knead in at the end (see picture below). That flour will be incorporated between the first two rises.
Note on taking challah: My recipe does not use enough flour to take challah (the mitzvah of separating a small piece of dough and burning it in remembrance of the challah given to the Kohanim at the Temple in Jerusalem). We simply do not have the storage space in our Manhattan freezer or the ability to eat that much challah, especially with only two of us. However, if you double the recipe there should be enough to take challah, though authorities disagree on the amount required to say the bracha so consult with your LOR on that.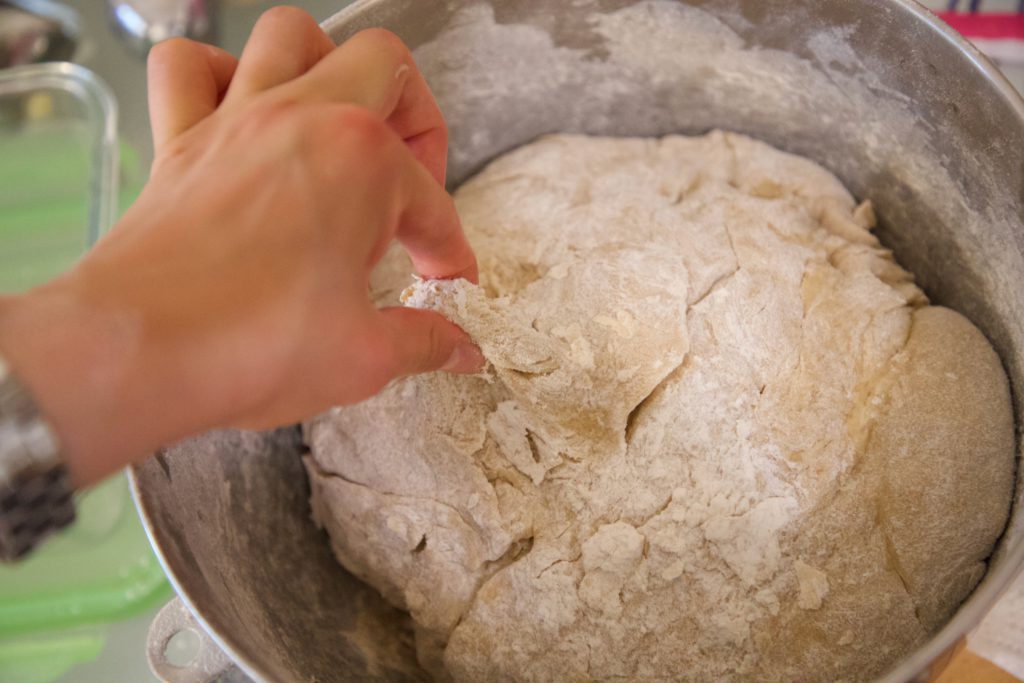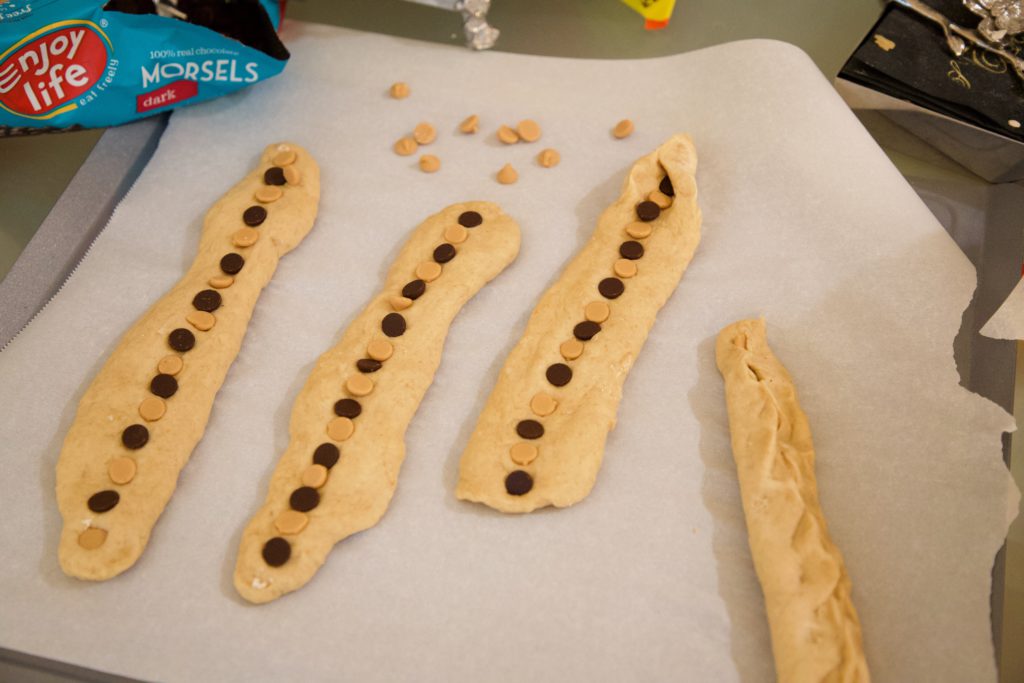 CHALLAH
My favorite challah recipe. Perfect for your Shabbos table.
Ingredients
1 ½

packages (1½ tablespoons)

instant yeast

½

cup plus 1 tbsp

brown sugar (alternatively: honey, agave, plain sugar)

1 ¾

cups

lukewarm water

½

cup

light olive oil

4

large eggs, plus one additional for egg wash

1

tbsp

salt

8-9

cups

bread flour (see tips above for explanation and substitutions)
Instructions
Whisk instant yeast and one tablespoon brown sugar in lukewarm water until dissolved. This can be done easily by hand, however, it is easiest if you use the bowl of a stand mixer as the mixer is very helpful for later steps.

Add oil, continuing to whisk.

Add 4 eggs, salt, and remaining 1/2 cup sugar, alternating between eggs and continuing to whisk.

Using the dough hook on your kitchen aid, or a wooden spoon if you do not have a stand mixer, gradually add flour. Keep the mixer on low speed and add one cup at a time to reduce mess. If you are using vital gluten, add it at this time as well. Add enough flour so the dough is no longer sticky and does not easily take more flour (see photos and tips above).

Continue kneading for several minutes until smooth either with the dough hook or by hand.

Remove the dough ball from the bowl, grease the bowl, and return the dough. Cover with plastic wrap and let rise until doubled in size. The time this takes depends on the temperature and humidity in your room. It should, however, be at least an hour and a half or two.

Once the challah has doubled in size punch down and allow to rise for another forty-five minutes.

Divide challah dough and braid challah to the desired shape. Four and six-strand loaves are both pretty. If you are using stuffings such as chocolate chips flatten the strands after forming them, add the chocolate chips, and pinch the sides up (see photo above).

Allow challah to rise for another hour.

Crack and scramble the final egg in a bowl and brush it on your loaves. If you are using a topping (such as everything but the bagel spice) sprinkle on now.

Bake in the oven for 30-35 minutes, depending on the loaf size and your desired doneness. At that point you can poke the challah to make sure it is baked inside.

Turn the oven to broil and allow the tops to brown for an additional 2-5 minutes. Monitor to make sure the tops do not burn.

Remove from oven and allow to cool.