We do date night once a week and this week was my turn to choose what to do. I decided I wanted to do an indoor camping evening with s'mores (always up for quarantine activity ideas!). We did this once before back in April during Pesach but then instead of graham crackers we had matzah. This time I needed graham crackers.
The craziest part of this whole quarantine/me now being terrified of grocery stores thing is I actually decided it would be easier for me to make graham crackers than to go buy them at the store. Not just more fun, but because I hate the store so much these days (why do people no longer stand 6 feet apart?) actually easier.
I had never made graham crackers before. Instead of trying to do someone else's recipe I just started smelling spices, molasses, and honey to see what might go together to make graham crackers. After a bit of smelling, mixing, and tasting along the way (including comparing to some crumbs of Lieber's graham crackers) I developed a cookie I am thrilled to share. By the end, the Lieber's graham crackers tasted like cardboard and these tasted amazing.
The molasses definitely makes them a little bit of a darker color than traditional graham crackers but it also brings so much more flavor. Sometimes the graham crackers in the s'more just feels like a vehicle for the chocolate and the marshmallow, but not this time.
If you have any trouble getting the dough to come together into a ball add another tablespoon of honey. If that doesn't work, contact me or comment below and I can help troubleshoot!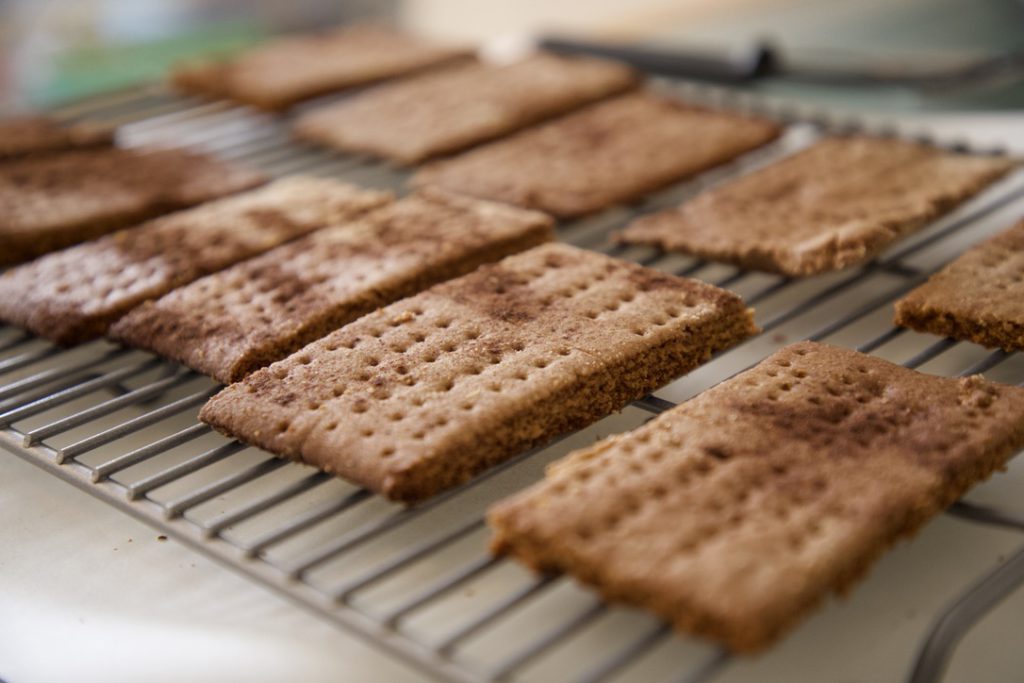 GRAHAM CRACKERS
More flavorful than the storebought ones but just as crunchy, these graham crackers are a perfect vehicle for smores or a snack by themselves.
Ingredients
2

cups

whole wheat flour

1

tablespoon

cinnamon

¾

teaspoon

baking soda

1

stick

butter

½

cup

brown sugar

5

tablespoons

honey

2

teaspoons

vanilla extract

1

tablespoon

molasses

1

tablespoon

buttermilk
Instructions
Soften the butter.

Mix the flour, cinnamon, and baking soda in a medium bowl. Set aside.

In a stand mixer cream the butter with the brown sugar. Add the honey, vanilla extract, molasses, and buttermilk.

Mix on medium until fully combined.

In batches slowly add the dry ingredient mixture until fully mixed.

Form the dough into a ball and wrap in cling wrap. Let rest in the refrigerator for two hours.

Flour a piece of parchment paper and roll the dough out on it using another piece of parchment paper or cling wrap on top to keep the dough from sticking to the rolling pin.

Roll until about ¾ of the thickness you would like your graham crackers to be.

Transfer sheet(s) of dough to a baking sheet. Cut lines for each cookie, bringing the knife almost all the way through.

Score smaller lines that divide each cookie in half. These ones should not be as deep.

Use a fork to make dots resembling graham crackers.

Sprinkle cinnamon on top.

Bake for 10-15 minutes. Monitor closely to make sure they do not burn. The crackers should be fully baked and firm but will become crunchier when cooled.

Break the graham crackers into desired pieces.

Allow to fully cool on a cooling rack.