I love Mandelbrot. It is similar to biscottis just with Ashkenazi origins instead of Italian ones and a slightly different texture. I believe both cookies are better when dipped in chocolate. These cookies remind me of childhood. When I was in grade school there was extra time between school ending and either my ballet class or my piano class starting and I would often get cookies similar to this recipe from a small store near the studio. It was always a very special treat and something I looked forward to even on the weeks when I was dreading piano.
Bad Mandelbrot is tasteless (but generally too sweet) and dry, but good Mandelbrot is a special treat. That is why I believe you should make your own. At first I was intimidated by the idea of double baking and cutting the log of cookie after the first baking. I worried it would all crumble. It didn't. I also worried it would crumble while I dipped it in chocolate but it didn't do that either.
These cookies have more flavor than many of the other mandelbrot recipes I have tried. They are not lemony despite the lemon but it does add a subtle flavor. The almond extract also adds to the almond flavor that should be present in the cookies.
This recipe is parve (not so common for me) but you wouldn't know it. I only make parve desserts when I truly believe nothing is missed by the lack of butter. That is the case here. They are also very simple. The actual time to prepare them is minimal and most of the time is spent baking (my favorite type of recipe).
Also, to say something I basically never say: make sure not to underbake them. I love most things a bit undercooked (challah, cookies, salmon), but that does not apply to these cookies. They are meant to be crispy so they should be baked until they turn a little golden.
I cut the sugar in this recipe from most other mandelbrot recipes. It is about 1/2 of the sugar of comparable serving size recipes I came across. That is unbelievable to me because I could not imagine wanting more sugar. While, of course, the chocolate sauce contributes to that, even without the chocolate sauce they are definitely sweet enough.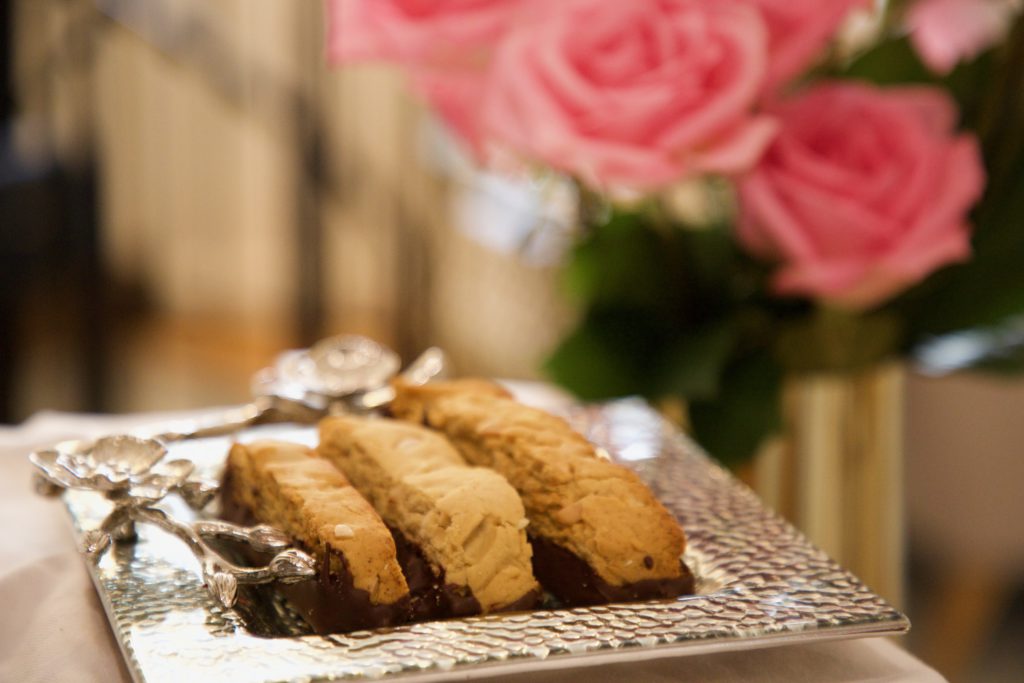 CHOCOLATE DIPPED MANDELBROT
The traditional Ashkenazi double-baked almond cookie, mandelbrot (similar to a biscotti), dipped in chocolate. While this cookie is good on its own even without the chocolate or served with coffee, the chocolate makes it feel like more of a treat.
Ingredients
3

eggs

3 ½

cups

flour

2

teaspoons

baking powder

½

teaspoon

baking soda

½

teaspoon

salt

Zest of one lemon

½

cup

brown sugar

½

cup

vegetable oil

1

tablespoon

vanilla extract

1

tablespoon

almond extract

1

cup

slivered almonds

1

cup

chocolate chips
Instructions
Preheat oven to 350°. Prepare two cookie sheets with baking paper and spray with oil.

Beat eggs on high in a mixer until foamy, about 3 minutes.

In a separate bowl combine the flour, baking powder, baking soda, lemon zest, and salt.

Add the sugar, oil, vanilla extract, and almond extract to the mixer. Beat on medium until blended.

Add the flour mixture to the liquid mixture and mix on low until just incorporated.

Add the almonds. Mix on low until just incorporated.

For the dough into two logs and place on the two baking sheets.

Cook 35-40 minutes until loaves are firm but remain slightly soft when pressed.

Remove from oven and let cool for 15 minutes.

Slice the loaf into ¾-1 inch pieces. Place back on the baking sheet on their side.

Return to oven. Bake until the pieces are fully dry and slightly golden on both sides, about 20 minutes on each side.

Remove from oven to a cooling rack and allow to cool.

Once the cookies are cooled, melt chocolate in a medium-sized bowl.

Dip cookies in the chocolate sauce one at a time.