I am always looking for new sourdough recipes and sourdough has really found its way into all the breads I make. Sourdough pita is one example of that. It is delicious and not too much work (though as with all sourdoughs there is a bit of resting time).
If you have a pizza stone cooking them in the oven is the way to go. As you can see in the photo below, they puff up in the oven when cooked in the oven. When cooked on the stove, they tend to get the dark marks shown in the featured image. However, either way they are delicious.
They are amazing served with hummus or my coconut curry. They also make great burger buns or can be eaten like English Muffins.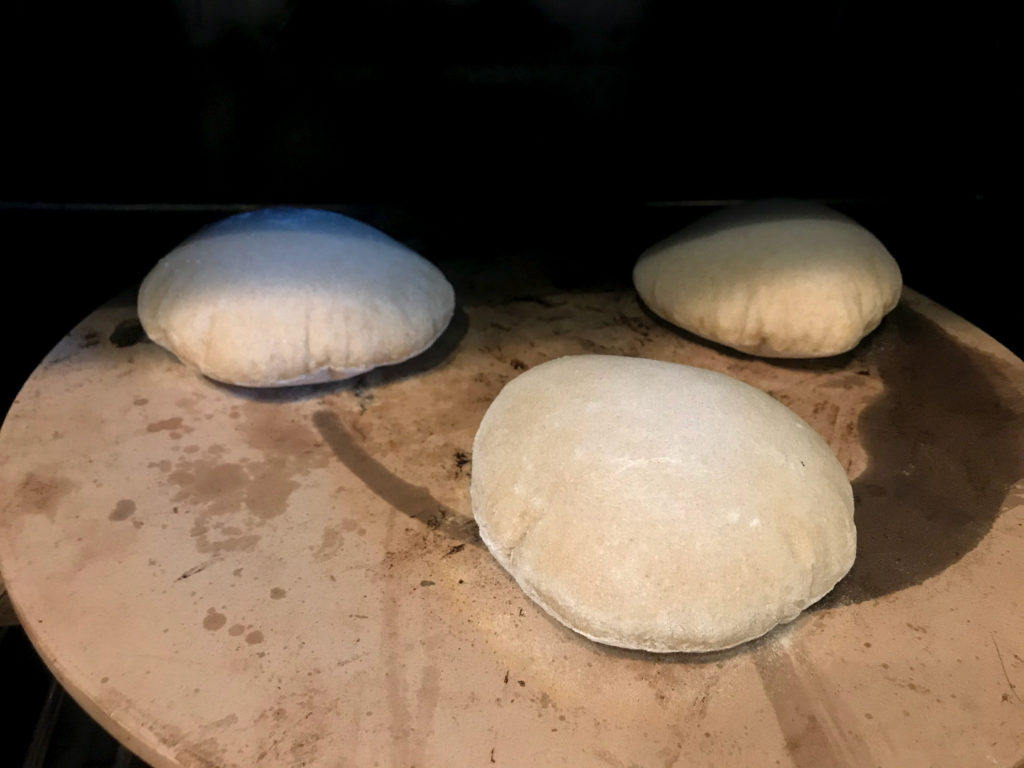 Sourdough Tips and Notes:
As with all my sourdough recipes the amount of sourdough you add is really flexible.
Generally, the night before I make anything with sourdough I mix one cup flour and one cup cold water with the sourdough starter. I then pour the amount of sourdough starter that was in the jar before back into the jar. I cover it lightly with the lid and place a light covering over the bowl that has the sourdough discard I will use in recipes the next morning.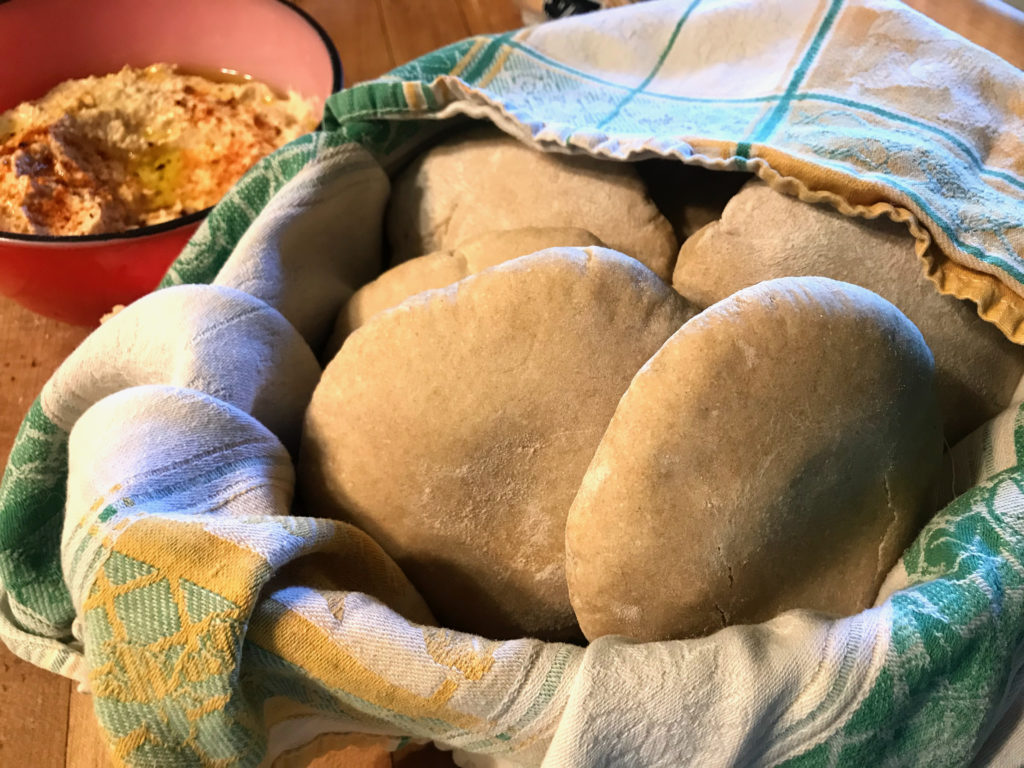 SOURDOUGH PITA
A delicious sourdough version of classic pita. These can be made with whole wheat for a healthier treat.
Ingredients
1

cup

sourdough starter

1

cup

lukewarm water

1

teaspoon

sugar

1

teaspoon

yeast

2

teaspoons

salt

4

teaspoons

olive oil

1

tablespoon

wheat gluten

1

cup

whole wheat flour

3

cups

all purpose flour
Instructions
Follow instructions for preparing sourdough starter before use.

Place sourdough starter and lukewarm water in mixer bowl with a dough hook or a large bowl for hand mixing.

Add sugar, salt, and yeast.

Add olive oil, whole wheat flour, and wheat gluten and mix until combined.

Add all purpose flour a little at a time, mixing with a wooden spoon or dough hook on low as you add.

Increase the mixer speed to medium and allow the dough to mix another 4-5 minutes. Alternatively turn out on a flowered board and knead by hand for 5 minutes. The dough should be smooth and stiff at this point.

Cover with a damp towel and let rest in a warm spot for 2-3 hours. Alternatively cover with plastic wrap and put in the refrigerator over night or until ready to proceed. Remove from refrigerator and allow to return to room temperature before proceeding.

Punch down the dough and form a round ball.

Preheat the oven to 500° with a pizza stone on an upper rack.

With a sharp knife, cut the dough into eight pieces.

Take each piece and form a round, smooth ball and place on parchment paper.

Cover with a damp towel and allow to rest for another 30 minutes.

Working with 2-3 balls at a time, roll out each ball with a rolling pin on a floured surface until it is ⅓ inch thick and approximately 5 inches in diameter.

When the 2-3 rounds are ready, place on the hot stone and close the oven door for 3 minutes.

If the dough has puffed up, flip over for 1 more minute. 

Remove from oven and wrap in a clean towel to keep warm while the others are baked.

Serve fresh or store leftovers for 2-3 days.
Notes
You can also cook the pitas on the stove. To do this heat up a cast-iron skillet to high heat before placing the pitas on. They will likely not puff up as well but they will still be delicious. Also, darker spots will likely appear if cooked on the stove (see the difference in the photos in this post-  the pitas with darker spots were cooked on the stove).
If you do not have or do not want to use whole wheat simply switch the whole wheat for white flour.