We received this beautiful Chrysler building bundt cake pan as an engagement present and we have been so excited to use it. The Chrysler building is my favorite building and despite having been in the city since COVID began we haven't gone to midtown or anywhere else you would see it since before March, so it was pretty exciting in cake form.
I have a very active sourdough starter and I love to incorporate it in anything. Desserts have been the new frontier for it. We have been making sourdough buttermilk waffles (recipe to come) so I thought those might go together well in cake form as well. I was craving a lemon dessert so this cake was born.
It is truly delicious and I am so excited to share it. There is a wonderful sourdough taste that gives the cake a more complex flavor than you expect from a bundt cake. I also made a similar one with orange and cardamom in mini bundt form (recipe to come) so mini bundt cakes work as well if that is what you have.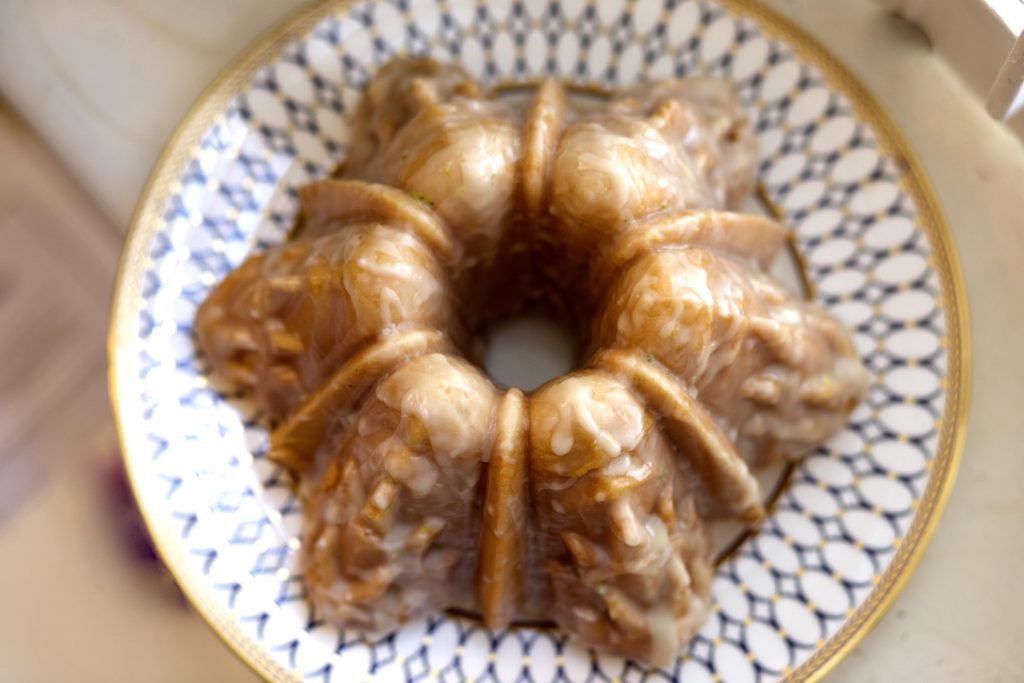 LEMON SOURDOUGH BUTTERMILK CAKE
This cake has a delicious and complex flavor. The lemon is strong enough to make it "lemony" but no so strong as to overpower. The sourdough adds a deepening flavor.
Ingredients
2

large eggs

2

egg yolks

2

tablespoons

vanilla extract

2

tablespoons

lemon juice

1

cup

sourdough discard

2

cups

flour

1

cup

brown sugar

Zest of one lemon

2

teaspoons

baking powder

½

teaspoon

salt

1½

sticks

room temperature salted butter, cubed

½

cup

buttermilk
Glaze
2

cups

powdered sugar

2

teaspoons

vanilla

1

tablespoon

lemon juice

3

tablespoons

buttermilk

Zest of one lemon
Instructions
CAKE
Preheat the oven to 350°F. Butter and flour your Bundt pan. 

Mix the eggs, egg yolks, vanilla, lemon juice, and the sourdough discard together in a medium bowl.

Mix the flour, sugar, lemon zest, baking powder, and salt in a stand mixer using the beater or paddle attachment on low speed. If you do not have a stand mixer a large bowl also works. 

With the mixer running add the cubes of butter followed by the buttermilk.

Increase the speed to medium and allow the batter to fully mix, scraping the sides.

Slowly add the egg and sourdough mixture, continuing to scrape the sides. 

Mix until fully combined. 

Pour the batter into the prepared pan.

Bake until a toothpick or knife inserted into the center comes out clean, about 40 minutes.

Cool for 15 minutes in the pan. Transfer the cake onto a cooling rack (have the rack on top of a sheet pan or plate to catch any drips while glazing). Prepare the glaze and glaze while still slightly warm.
Glaze
Mix the confectioner's sugar, vanilla, lemon juice, zest, and buttermilk in a small bowl until smooth.

After moving the cake to a cooling rack spoon the glaze over the cake. 

Allow the cake to finish cooling and the glaze to set.